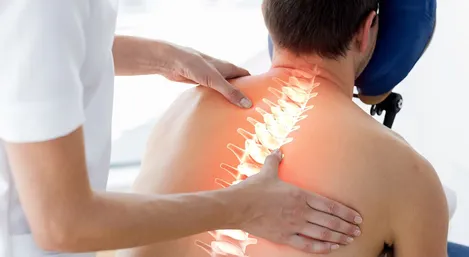 Chiropractic care helps with:
Low Back Pain
Neck Pain
Headaches
Arm/Shoulder Pain
Hip Pain
Knee/Ankle Pain
Disc Problems
Stiffness/Weakness of Arms or Legs

Chiropractic is a system of diagnosis and treatment based on the concept that the nervous system coordinates all of the body''s functions, and that disease results from a lack of normal nerve function. Chiropractic employs manipulation and adjustment of body structures, such as the spinal column, so that pressure on nerves coming from the spinal cord due to displacement (subluxation) of a vertebral body may be relieved. Misalignment and nerve pressure can cause problems not only in the local area, but also at some distance from it. Chiropractic treatment is effective for muscle spasms of the back and neck, tension headaches, and some sorts of leg pain. We utilize chiropractic care for musculo-skeletal complaints, and use a variety of techniques to treat the involved area.
We use a straight forward approach and expect results quickly. If you do not receive the expected results, you will sent to the appropriate specialist for your need. We work closely with many local medical and holistic providers in the Columbus area.
What is Chiropractic?
Chiropractic is a complete system of healthcare focused on restoring, preserving, and optimizing health by natural hands-on care. Where conventional or "allopathic" medicine focuses on curing illness through surgery and pharmaceuticals, the goal of chiropractic is to optimize health with a non-invasive approach that does not use drugs or surgery. Chiropractic's primary avenue of care is manipulation of the spine and the framework of the body. The spine is an important structure that houses and provides protection for the spinal cord, while providing mobility for the upper body. This dual requirement of strength and flexibility makes the spine a very complex structure, with multiple joints at each spinal segment (the vertebrae) forming the spinal column. When these joints (also known as articulations) are not positioned or functioning normally, it can affect the nerves exiting the spine. Chiropractic care attends to irritations along the spine by manually repositioning these joints. This is a chiropractic "adjustment."
The word "chiropractic" comes from the Greek words cheir (hand) and praxis (action), and simply means "done by hand." Note that the word "chiropractic," while a bit awkward, is the actual name of the profession. A chiropractor practices chiropractic (not chiropracy, chiropractics, or even chiropractic medicine).
Chiropractors are licensed professionals who are trained to diagnose and appropriately care for or refer patients for the care they require. Accordingly, they continually assess their patients from dual perspectives, asking: What might I do for you, as well as, what might you also need today beyond my abilities? Chiropractic patients often visit their chiropractor periodically in order simply to relieve irritations - to get "adjusted." Individuals also seek chiropractic care for back pain, headaches, joint pain, carpal tunnel syndrome, tendonitis, sprains, as well as non-musculoskeletal conditions including allergies, asthma, and digestive disorders. Some chiropractors further specialize in orthopedics, sports injuries, neurology, pediatrics, nutrition, internal disorders, or diagnostic imaging.